I finally started a blog. Now I don't usually have any trouble thinking of something to say. Just ask my kids. Then I log on here and go blank. What happened? I guess I will just tell you the boring stuff I did yesterday. It was errand and grocery shopping day. I spent most of the day in town. Stopped by Burger King for a Junior Whopper and ran into my brother and sister-in-law. So of course I had to sit and visit with them for about an hour. Kind of put me behind schedule since I had planned to eat my lonely little sandwich on the go, but I sure enjoyed the time spent with them. (I know that wasn't a real healthy meal, but I did get the Jr. It was a long day and I was hungry. Enough excuses. I just wanted a burger. OK? LOL)
After BK I finished my errands and decided to drop by one of our Wal Mart's. Rumor had it that it was selling out all of its fabrics. (very sad face here) Sure enough, the shelves were bare! I did find about 20 or 30 yards of fabric that was 50% off. None of it was what I would call eyecatching, but I will find uses for it. I'll try to take a picture of it to post later. Dh is sleeping and I don't want to wake him. The picture of course depends on if I can figure out how to post them here.
I hurried home and did my outside chores. Hung up all 5 lines with the laundry. I had planned to take a walk with the dogs, but by then a cold front was coming through. Bummer. I was enjoying the 50* day.
Ok, I am going to attempt a picture or 2. I finished our granddaughter, Ava's Heart quilt. So I mailed it to her. I think it turned out pretty good. It is all hand quilted. Lots and lots of hours in this quilt.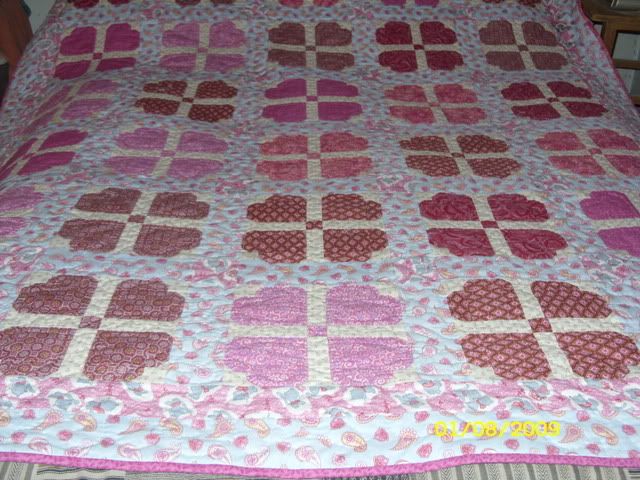 Here is a closeup of one of the heart blocks and the sashings.
A picture of the back because I love the backs of quilts.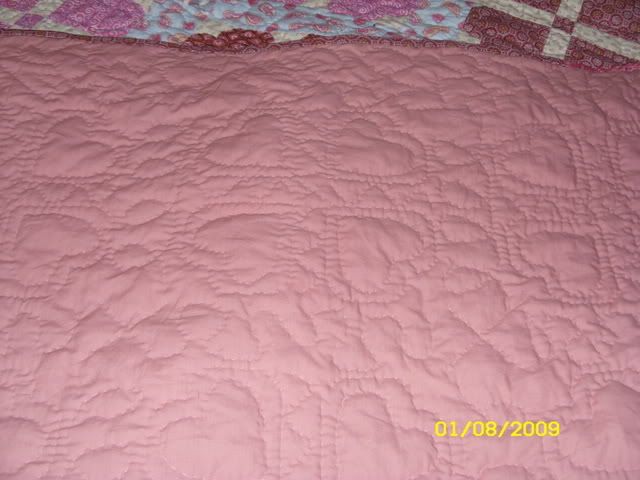 I tried something new with this quilt. I took all the leftover fabrics from the heart blocks and made a controlled scrappy binding. I really like the way it turned out. I am sure I will do this again. The spots you see are just water.
Well, if everything worked out ok, I will have my first blog post under my belt. LOL If not, Bren, I need help! LOL
Winona