We had a light dusting of snow yesterday and some really fierce winds, but the sun is shining this morning. Of course it is only 2* out, up from -2*. This is January in Missouri. I just keep saying spring is coming. (grin)
Today I thought I would share some pictures of a quilt I made that I just love. I took my time on it. It had 12 blocks and I only pieced about 1 a week. Then the hand quilting took a long time, but it was a labor of love. LOL This quilt is called Thimbleberries Village. I just love Thimbleberries patterns. I have made many of Lynette Jensen's patterns. I have several of her books. Did I say I love Thimbleberries? I picked out all of the fabric, but stayed pretty close to the pattern.
Anyway, here is Thimbleberries Village.
Here is the back. Love those backs. LOL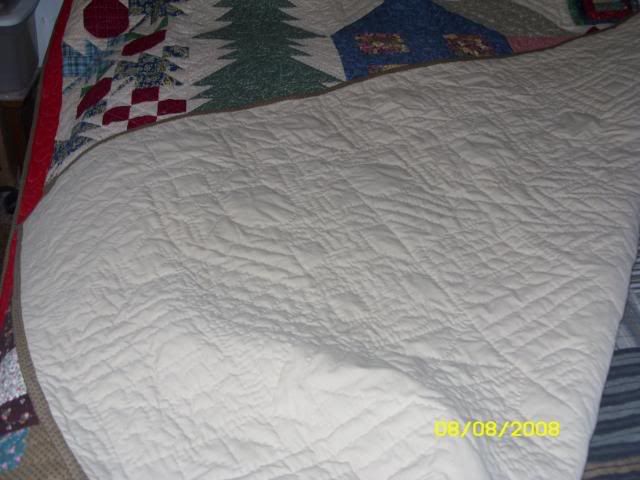 As I said, this quilt was so much fun to put together. It is for our bed some day. Can you believe that I have kept very few of my quilts? Most have found homes elsewhere. I have it spread out on the bed right now. Do you see what I have to put up with? Callie is in front and Aeris in back. Good thing I love my girls so much. LOL
Here is a picture of dh holding it up for me.
I told you I love this quilt. As you can see, Aeris still had to get into the picture. LOL
The current project is a small table topper that I put together from a charm pack. I am just doing a simple crosshatch in the borders. Already have the center quilted. I guess I just needed something to do for fun. I am also working on Bonnie Hunter's Double Delight.
http://quiltville.blogspot.com/
Hers is a beautiful quilt with lots of pieces. I am using green where Bonnie used pink. I hope I didn't make a mistake.
Cathryn called yesterday. She said Ava had received her quilt and loves it. That made my day. All 4 of the grandkids loved their quilts. What more can I ask?
Don't forget that The Biggest Loser is on tonight. I just love that show. I haven't picked a favorite yet. After last season, I figured I would let it play out for a while before I decided who to get behind. LOL
Well, this is becoming rather boring. Sorry about that. I may have to give some thought to my blog posts instead of just doing them off the top of my head. Everyone have a wonderful day and please visit again. I really appreciate all visitors.
Winona